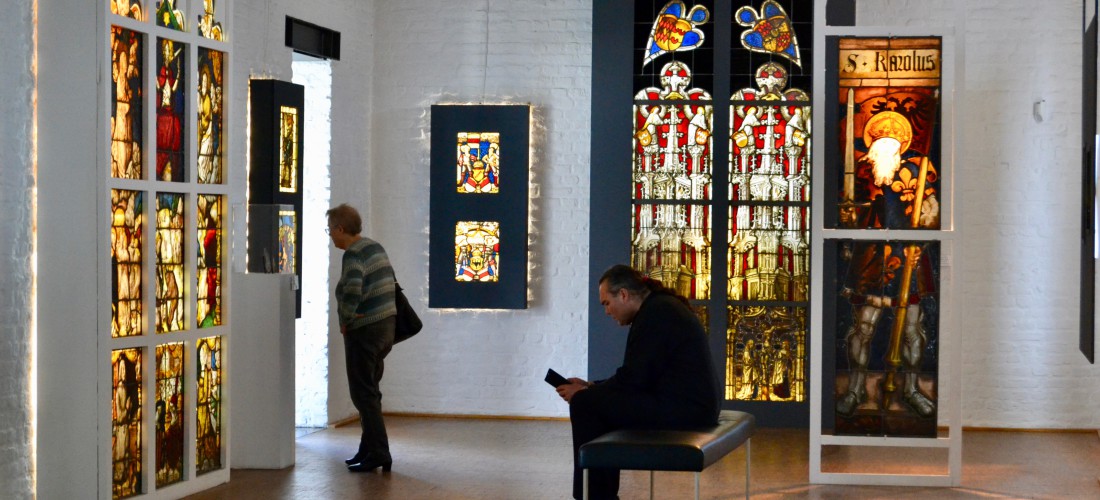 For English speaking Visitors
Admission
Adults: € 6,-
Students, pupils, conscripts and disabled persons: € 5,-
Family card (2 Adults plus 1-4 children): € 14,-
The assistant of a severely disabled person (who holds a "severely handicapped pass") has free entry.
Free entry for children 5 years and under, kindergarten groups, primary school groups (grade 1 – 4) and members of the museum's registered voluntary association.
There is also a museum shop and a café which serves beverages (cake and sandwiches upon pre-order only)
The museum is wheel-chair accessible and the different levels are connected by elevator.
Guided tours
Guided tours in English available for groups upon request (please contact us well in advance). The guided tours last approx. 60-90 minutes and cost 45 €/group + 5 € reduced price (from 10 persons).
e-mail: info@glasmalerei-museum.de
phone +49 (0) 2462 - 9917 0
fax +49 (0) 2462 - 9917 25
Scheduled guided tours in German every first and third Sunday of the month at 11.30 am.
Fee: 2 € and the relevant admission cost.
Larger groups are requested to register in advance. Individuals do not have to register. However, we recommend that you call us a few days in advance to find out whether the tour is taking place.
Directions
Rurstraße 9 - 11, 52441 Linnich, Germany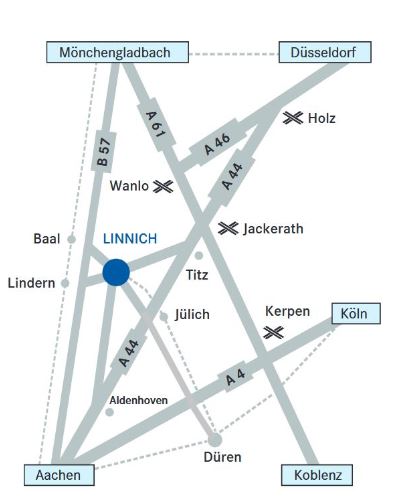 By Car
From Cologne via A4/A61/A44, Düsseldorf A46/A44 via Kreuz Holz or Dreieck Jackerath or Mönchengladbach A61/A46/A44 via Kreuz Wanlo, Kreuz Holz or Dreieck Jackerath to exit Titz and via A44 from Aachen/Benelux to exit Aldenhoven or Jülich-West. Then follow the signs to Linnich.
Note on the closure of the Rurbrücke:
For safety reasons, the Rurbrücke remains closed to pedestrians and motor vehicles for the time being after the past flood situation. Access to the city centre is only possible via the B57 / Brachelener Str. / Rurdorferstr (Mahrstraße is closed due to construction work). The museum can be reached by car directly via Löffelstraße (note: there are no parking spaces at the museum).
Parking: You can park your car on the church square or at the Alter Markt (Mon - Fri: 8.00 am - 6.00 pm, Sat: 8.00 am - 1.00 pm.
At the church square on Fridays: 7.00 am- 1.00 pm. weekly market). Please note here the maximum parking time of 2 hours with parking disc. From here you need 2 or 5 minutes to the museum.
By train and bus
On the train route (DB, German Railway) Aachen-Mönchengladbach-Düsseldorf: to train station Hückelhoven-Baal or Lindern, then take a bus to Linnich.
On the train route (DB, German Railway) Aachen-Düren-Köln: to train station Düren, then change to "Rurtalbahn" (private railway), which will take you to the train station in Linnich.
The private Railway "Rurtalbahn" also serves the region of Düren, so it is possible to reach the museum on this route.
For more information:
www.bahn.de (German Railway)
www.dkb-dn.de or phone +49 (0) 2421 - 200 222 (Rurtalbahn)
Note on shuttle bus services due to closure of the Rur bridge:
Please inform yourself about the travel times of the shuttle bus service from "Bahnhof SIG" on the website of the city of Linnich: Pendelbus Linnich
You can also visit the museum of the "Bahnhof SIG" on foot or by bike (about 4 km). Follow Erkelenzer Str. in the direction of the B57 (past the Shell petrol station and Penny Markt). Then turn left onto the B 57 in the direction of Setterich until the first roundabout (take the 3rd exit onto Brachelner Str. or turn left). Follow Brachelner Str., continue straight on Kirschstraße. First street turn left onto Altwyk. Follow until you reach the museum on the left.
By bike
In front of the museum is a station where you can repower an e-bike.
Contact
The reception is staffed during opening hours and will be happy to answer any general questions you may have about the museum. You can also register for courses and events there.
Outside office hours, you are welcome to submit your requests for individual bookings at the reception. The employees of the administration will then contact you.
Tuesday to Sunday from 11.00 a.m. to 5.00 p.m.
Phone +49 (0) 2462 - 99 17 - 0 or - 13
Email info@glasmalerei-museum.de